I love shopping online. It is my absolute favorite way to shop. I don't have to deal with traffic, crowds, and moody cashiers. It is such a better experience for me personally and I love that I can shop in my pajamas :). I also tend to save more online. I do that by combining coupon codes with the online sales already going on.
Coupon Chief is the place I go to get all of my fabulous coupon codes. They really couldn't be any easier to use. All I have to do is go to couponchief.com and search for my favorite store. You can search by typing in the store name, what you are looking for i.e. shoes, or you can search for your store alphabetically.
I am then able to search through all of the coupon codes for that store. You can see the success rate of each code to see how it worked for others. I love this feature because you don't spend a lot of time and get excited over a coupon code that doesn't even work. Then all you do is click on "show me the code" tab and it will take you right to the online store. Just copy the coupon code and enter it when you checkout. See, super easy! You can then go back to Coupon Chief to leave feedback for other users and let them know how the code worked for you and brag about how much you just saved.
I wanted to buy something from Wet Seal so I checked out the codes on Coupon Chief and found one for 10% off any 5 items. I found 5 camis for $4.99 each in the clearance section and they were an extra 25% off. So I added all my items to my cart then used the coupon code for 10% off 5 items to save an extra $2 on my purchase. So I ended up getting 5 camis for only $16 making them only $3.20 each…not too bad!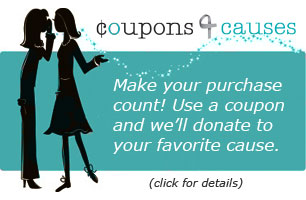 Coupon Chief even has a coupons-4-causes program. This is an easy way to give back to charities in your community. Just search for your favorite cause by name or location, you can even add it if it is not listed. Shop at your favorite stores like you normally do and Coupon Chief will donate up to 20% of your purchase price to your favorite charity, school, or church.
If you come across a coupon code that has worked for you but is not listed on Coupon Chief, you can upload the code and get paid! With their Pays-2-Share program you simply upload your code and every time someone uses that coupon code, Coupon chief will give you 2% of the sales. You can go here to read more about the terms and conditions. This is a great way to share savings and make a little extra on the side.
The next time you want to make an online purchase be sure to check out Coupon Chief first. You never know how much you may be able to save. With holiday shopping just around the corner every little bit helps. Also remember to check them out when you do some Cyber Monday shopping.
*This is a sponsored post. All opinions are my own.