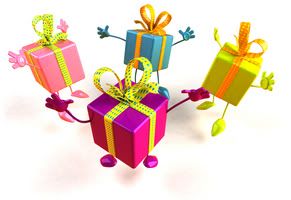 I love saving money by using coupons and being on the lookout for some great deals. But did you know that there is another great way to save? Entering giveaways is a great way to save some cash. You can win gift cards, dvds, clothes, home decor, pretty much anything. I enter giveaways all the time and I've been very lucky to be able to win some great prizes. On average I win a giveaway every other day. I think my best win was for a $200 gift card to Groupon.com.
I know not everyone has time to sit and surf the internet for giveaways, so I'm going to start a group of posts titled " Giveaway of the Day." I will pick out a giveaway that I have found and highlight it so that you can enter as well. I will try to pick something that is targeted to everyone and doesn't have a whole lot of entries at the time I post it.
I would love to get your feedback on this idea. Would you like to see posts like this? I figured I would try it for a little while and see how it goes. If you have your own giveaway you would like to share please feel free to leave the link in the comments so everyone can enter. Also, if you have won any giveaways please share that as well. I will post my giveaway wins monthly so that you can see that people do actually win!